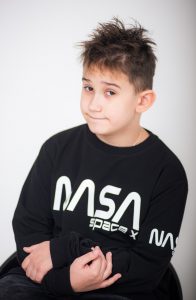 Maxim Brovchenko is a young artist from Berdyansk, whose paintings are full of distant galaxies, extraordinary planets and their inhabitants, bright stars, and a special philosophy of love for all beings. And it is not surprising, because the boy is interested in astrophysics and draws exclusively space. Maxim has a page on Facebook, where he publishes interesting facts and remarkable astronomy and physics research. 
A 10-year-old schoolboy is an extraordinary child, he is autistic. However, Maksim never considered himself disabled and always adds that he would not be himself without autism. 
Maxim Brovchenko has a personal site, which presents all of the "space" works of the little creator. Visit the official page where you can admire the beauty and depth of thought of the exhibited paintings and also learn about the conditions of obtaining the creations and the story of Maxim. For souvenir products depicting the paintings of Maxim, go to the online store SPECTRE by clicking here.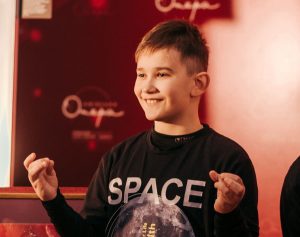 The little "Ukrainian Picasso", as he has already been nicknamed in the media, is being supported by the "Child with Future" Foundation, helping him in his development and strengthening his thirst for creative work with real activities. Thus, personal exhibitions of works were organized for Maksim, which impress the art appreciators, influence the Ukrainian media and encourage a lot of Ukrainian children on creative self-expression and development of skills. Click here for information on how the First Exhibition went, and for the Second one, please read here. 
Maxim's biggest dream is to meet the biggest players in rocket science and space exploration – Elon Musk and Maxim Polyakov. To be closer to the realization of the dream, the boy painted his idols with space gifts, which the "Child with Future" Foundation gives to the addressees. Read in this material how and to whom. 
We would like to remind you that we first heard about Maksim during the presentation of the Ukrainian translation of "The Blue Boy" by Andre Bosho in the summer of 2020 when one of the Foundation's projects made its debut. Later on, during the quarantine period and thanks to the cooperation of his parents and "Child with Future" consultant Bill Peters from the USA, Maxim began his path to creativity, revealing his talent through bright suns, uncharted planets, and galaxies. 
Watch the presentation of Maxim Brovchenko in Ukrainian, or click here for the English version. 
Maksim takes part in social projects, he is invited to TV programs and he is covered in the media:
«9-летний аутист из Бердянска рисует как Пикассо»
https://www.rbc.ua/rus/styler/9-letniy-autist-berdyanska-risuet-pikasso-1614101929.html
«Мальчика с аутизмом из Бердянска называют украинским Пикассо: мама рассказала об уникальном таланте»
https://news.obozrevatel.com/society/malchika-autista-iz-berdyanska-nazyivayut-ukrainski mama-rasskazala-o-ego-unikalnom-talante.htm
 Макс на телевидении 
https://cwf.com.ua/konsultant-mgo-ditina-z-majbutnim-bill-peters-ta-9-richnij-autist-hudozhnik- maksim-brovchenko-rozpovili-pro-ras-v-efiri-telekanalu-tv5/
 Эфир с Максимом и Белом Петерсом на ТК TV5
https://www.youtube.com/watch?v=YMF0kvZ38vM
Макс в журнале «Аутизм сегодня»
https ://cwf.com.ua/wp-content/uploads/2021/03/autist_newsletter_02.2021.pdf
 Макс – участник проекта «Люди из РАС»