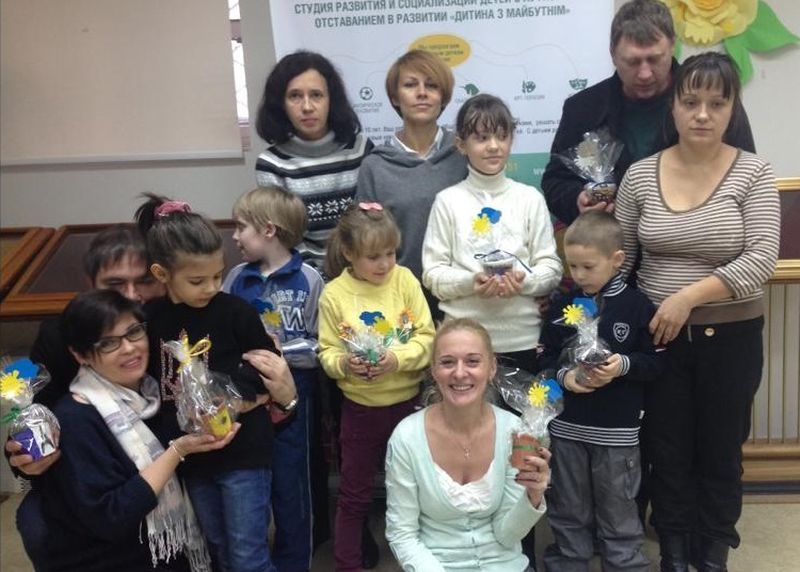 Studio of socialization for children with autism "Child With Future" has celebrated a year of activity. For the time of its work on the basis of the program of Taras Shevchenko National Museum "Museum without barriers: from theory to practice" the Studio has become not only the place of development and communication for children, but a real family club for all family of special children.
"During this year we have been successfully working over the development of imagination, fine and gross motor skills, communication, improving of spatial orientation, coordination, agility, – says Alyona Sverdlova, head of the Studio. – But unfortunately, special children almost do not have such opportunities, therefore parents actively respond to our invitations and bring their children to us to give them possibility for development".
Also this anniversary is celebrated by the project "Museum without barriers". It has started its activity simultaneously with the Studio "Child With Future" and for a year, according to Elena Chernenko, a curator of social projects of the Taras Shevchenko National Museum, has accepted more than a thousand of visitors with disabilities.
«Important events and conferences on monitoring of the rights of people with disabilities are been holding here, as well as different specialized excursions and theater performances, holidays and exhibitions, on which all the diversity of creative and active people with disabilities are gathered here. A series of developing programs for children are being implemented",- tells Mrs. Chernenko.
Next year the program "Museum without barriers" plans to expand the thematic of trainings and seminars, exhibitions and conferences. Also charitable performances – ballets for special children – are planned to be held; and a program of the Studio of socialization of the Foundation "Child With Future" will be complimented by specialized classes in choreography and ethnographic cognitive and applied studies.
The Foundation "Child With Future" is grateful to the Taras Shevchenko National Museum for productive cooperation!