Ukraine opened the 13th In2ternational Congress of Autism Europe under the slogan "Happy Journey through Life," which takes place in Poland (Krakow) from October 7 to 9, 2022. The 13th International Congress is organized by Autism Europe member Fundacja JiM. The event takes place in a hybrid format – offline and online. The honor of the opening speech was received by the director of the NGO "Foundation for Children with Autism Syndrome "Child with Future" Irina Sergienko. She welcomed the participants, wished productive work for the children of the world and called for more support and assistance to Ukraine in the fight against the russian aggressor. 
"I never would have imagined that I in the 21st century would have to wish for peace so much as our grandfathers and grandmothers did, without telling us about the horrors of war. The price my people are paying is enormous. But we fight and we win. Light will conquer darkness. Good cannot fail to defeat evil. Justice must be enduring and freedom must be unshakeable. For our part, as a community organization, we do what we can. Of course, this is not enough. And every morning you wake up and want more, more, more. I woke up today with the awareness that together with you here in Krakow, we will make that "more."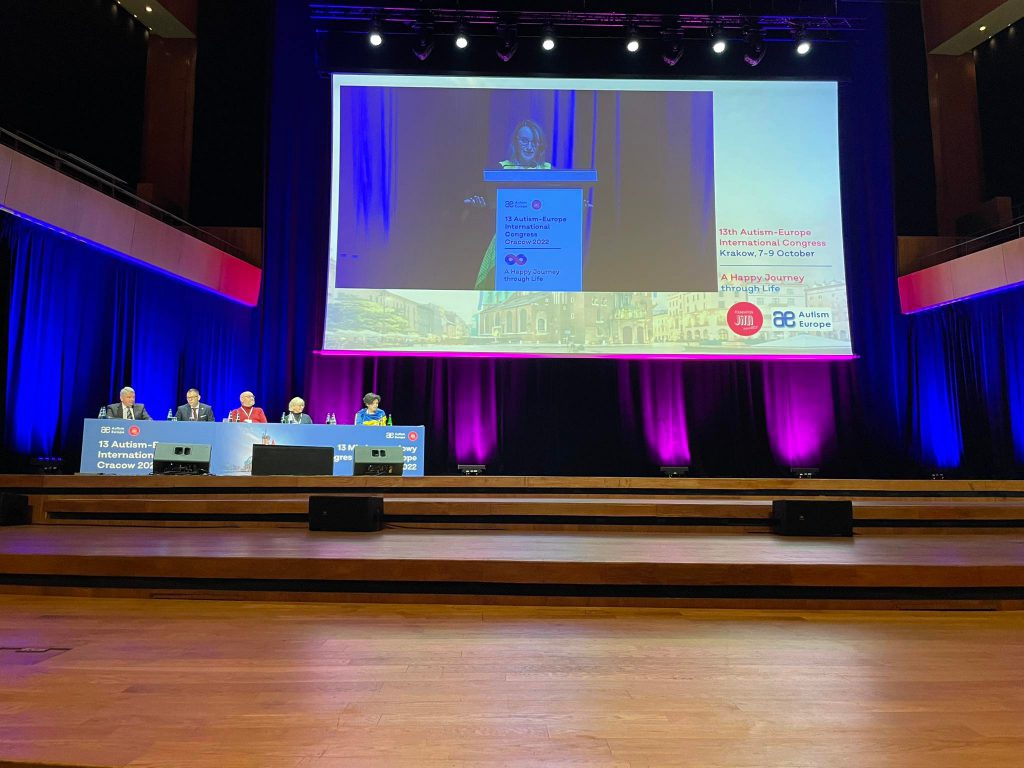 The chosen topic of the Congress should highlight that autism is a journey of a lifetime, and it is important to focus on the comfort and well-being of each person with ASD and society in general. 
The event program aims for diversity and inclusivity, focusing on highlighting different viewpoints: 
 – аutism research or practices;
 – examples of best practices in the autism sector;
 – personal experiences and initiatives.
Key issues discussed by European professionals at the International Congress include:
Diagnosing and supporting co-occurring difficulties in the early years

Reviewing the evidence base to support early communication development

Research review and practice recommendations in adult diagnosis

Best practice working with autistic adults with high support needs

Outcomes for adults on the spectrum: whose quality of life is it anyway?

Building healthy living: a lifetime perspective

Better mental health and wellbeing for autistic people and their families

What is the future of telehealth in autism services?

Reviewing the evidence: how to create the right environments for autistic pupils in school

Building positive peer relationships in schools

How do we support families marginalised by ethnicity, culture, language or finances?

Gender Identity and autism

Cognitive neuroscience – where are we now and where are we going?

Sensory differences – brain, behaviour and management
Irina Sergienko will present "Ukraine: helping in times of war". The focus will be on the tragic experience of the maximum narrowing of options for helping autistic children after the War began, and especially on the ways of rectifying the situation in Ukraine. In particular, restoring lost connections with the help of volunteers, training programs for professionals, tools for parents to help autistic children, etc. 
Daria Orlova, a Ukrainian autistic adult and mother of an autistic boy, will speak on "Life of an autistic person during war: from an autistic mother and mother of an autistic child," telling her own story of experiences. Daria will share her unique experience of war with her European colleagues. The social activist will talk about the inner experiences of a person with autism who faced the horror of war, regression and psychological problems as a result of stress, the difficulties of children's perception of war and the possibility of helping our children and adults. 
"Autism Europe" is an international association whose activities are aimed at advocating for the rights of people with autism, helping to improve their quality of life and raising awareness of the disorder in society. "Autism Europe" links around 90 member organizations from 30 European countries and represents some 7 million people throughout Europe. It is Ukraine's long-standing partner in the development of autism care. Autism Europe's consul in Ukraine is Inna Sergienko, founder of the "Child with Future" foundation for children with autism and mother of an autistic boy.