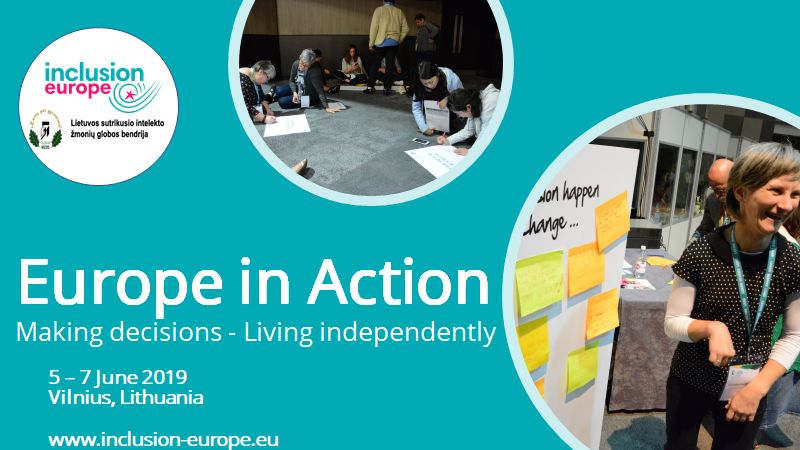 From 5 to 7 June in Vilnius, Lithuania, the Europe in action 2019 conference will be held, entitled "Making decisions – living independently". Already available Western Union registration at https://europeinaction.org/register/
Why this topic?
Making your own decisions is a fundamental human right, but still far from the reality of people with intellectual disabilities. How can different forms of decision support, as well as legislation, can dramatically affect the situation? What improvements have already occurred? Here are some of the issues that will be discussed at the conference.
The right to an independent life will become another topic, closely related to decision-making. Participants will talk about the progress made by Lithuania and other countries in ensuring this right and what it means for families when a person with intellectual disabilities is preparing for an independent life.
What will happen at the conference?
At this conference, people with first-hand experience will come out on the topic: the people with intellectual disabilities themselves and their parents. There will also be performances by specialists working in this field or conducting research. The event will become a platform for discussion, exchange of views and exchange of experiences on overcoming certain barriers and problems. Due to the variety of speakers, the conference will be a good opportunity to open new perspectives, increase awareness of the importance of these topics and potential cooperation.
Europe in action is an annual conference hosted by more than 200 people with intellectual disabilities, their families and professionals. They discuss important issues and share experiences and ideas for promoting inclusion. Conferences are organized by Inclusion Europe and a national affiliate (member of Inclusion Europe). The first Europe in action was organized in 2001.