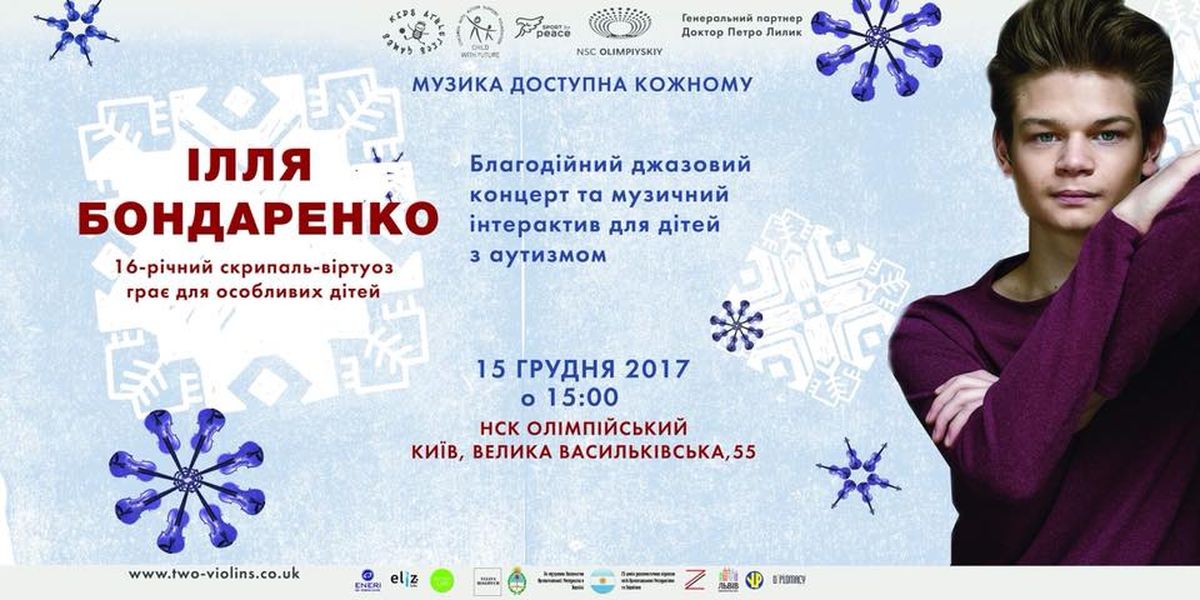 In the capital the eleemosynary jazz concert of 16-years-old violinist-virtuoso will pass for children with autism
Dear parents, we invite you and your special children for a musical charity event for children with autism, which will be held Dec 15, 2017 at the NSC Olympic in Kiev.
16-year-old violinist-virtuoso Ilya Bondarenko, who has conquered the best scenes of the world with his music, will give children a special holiday – a holiday of music, ACCESS TO everyone !!
On the eve of the Day of the patron saint of St. Nicholas, Ilya Bondarenko, along with a wonderful jazz pianist Natalia Lebedeva, famous musicians from Argentina – Flavio Romero (double bass) and Oscar Junt (drums) – will play for peers and young friends who rarely have the opportunity to visit this concert.
During the concert, our musicians will not only play, but together with special educators will create an improvisational orchestra with children and conduct music games.
Also the youngest students of the violin teacher Andriy Malakhov (teacher Ilya Bondarenko), violin puppets Zlata Allahverdyan (3 years old!), Andriy Matveichuk (4 years old!) And Anna Ivankich (7 years!) Have prepared a musical surprise!
We really want everyone and all children of the world to have equal access to music, sports and other industries – NO RESTRICTIONS !!! A charity jazz concert for children with autism "MUSIC AVAILABLE TO EVERYONE" is aimed at this.
Entrance is free of charge by pre-registration:
https://docs.google.com/forms/d/1gDC7NAkdLVMaFbV8BnXWsX9il_OfhIDBcItTRpHLQzc/viewform?edit_requested=true
The number of seats is limited, so the registration will be closed on Dec 13 at 12:00.