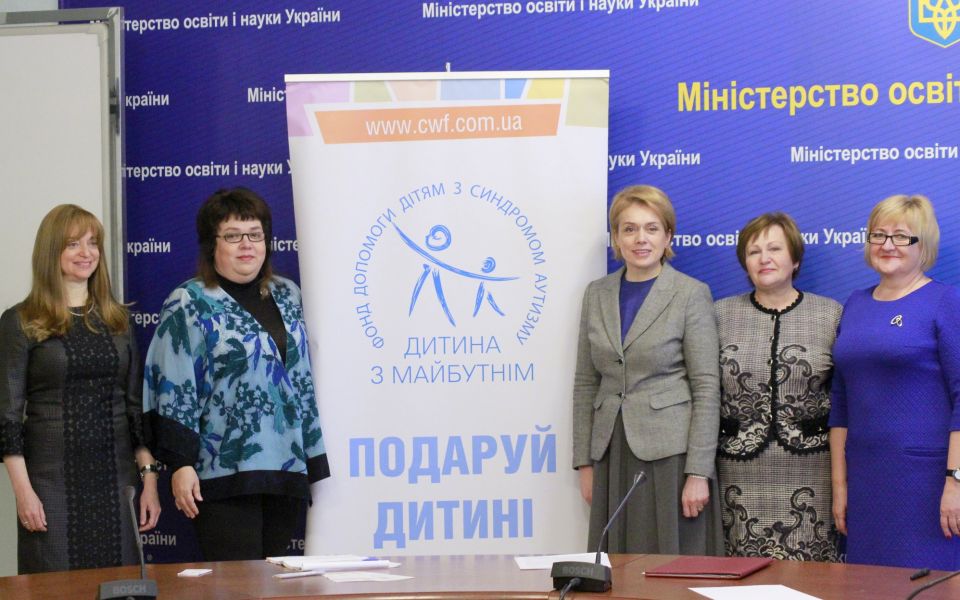 2 Dec the state represented by the Ministry of Education and Science of Ukraine and the public represented by "Children with autism support foundation "Child with future" agreed about official partnership and assistance. They signed long-awaited Memorandum of understanding, which will help to join efforts in providing socio-psychological, educational and legal assistance to families, which have people with autism, to integrate children with autism in society, to promote implementation of regional, local and international programs, individual education, upbringing and correctional processes.
According to the Minister Lilia Grinevich, it is very hard to solve the problems existing in the sphere of work with children with autism. "In this regard there is a need of cooperation not only with the system of education or health care system, but a system of social aid – this issue has to be solved complexly", – said Grinevich.
Also she noted that cooperation with the Ministry of Education and Science of Ukraine and children with autism support foundation must foster the formation of tolerant and positive attitude of society regarding people with special needs. "In order to improve conditions for development of children with autism we need to cooperate with public. For the time of my work in the Parliament and in the Ministry I have understood: if you indeed want to do something – do it in partnership with public organizations – with people, who are not indifferent, who constantly work with a certain issue, for whom it is the sense of life", – said the Minister.
In turn the founder of the Foundation "Child with future" Inna Sergiyenko underlined that a series of negotiations with European partners has been held, and some of them are ready to provide their programs for translation and adaptation. "Partnership with the Ministry of Education and Science of Ukraine will ensure the most effective implementation of these programs in Ukraine. Such system approach will help to liquidate lack of knowledge in the work with autistic children step by step", – said Mrs. Sergiyenko.