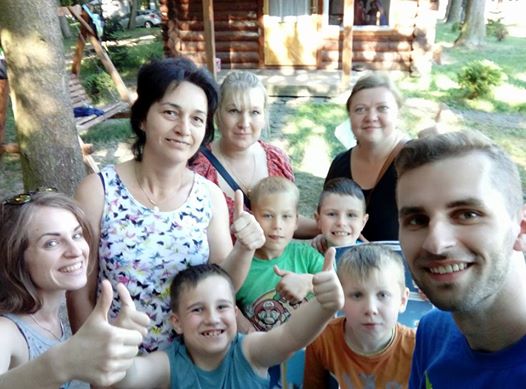 Director of Children with autism support Foundation "Child with future" Larysa Rybchenko visited summer correctional camp "Rain children are the part of Ukraine" with a seminar "Advocacy and legal literacy" for parents, who brought up children with autism. She spoke about legislation aspects in the sphere of social, education and medical provision of families, in which children with special needs, including autism, have been brought up. The visit became traditional for guests of the camp. Last year Larysa also held a seminar for parents in this camp which had been organized by Charity Foundation "Poglyad".
The camp worked from July 3 till July 14 on the basis of health camp "Rassvetnaya Zvezda" (Dawning Star) (Alexandriya, Rovenskyi region). International Charity organization "Poglyad" organizes summer camp for the sixth time and gathers children, parents and specialists. This year 27 families got rest and received correction services for their children at the camp. Useful seminars have been traditionally organized for parents.
"The camp really had success, because children attended diverse correctional classes, including canistherapy, ippotherapy, art therapy, music therapy and physical rehabilitation, – Larysa Rybchenko shares impressions. – Recommendations of specialists were very useful. Within the frames of my seminar I gave parents definite directions where to move, what to demand in order to get everything what legislation provides. I hope that parents will manage to use this knowledge that will help to defend rights of their children".