In the beginning of 2015, "Children with autism support foundation "Child with future" (Kyiv, Ukraine) summarized the results of their survey regarding autism in Ukraine.
According to worldwide autism organizations' data, the number of people suffering from such disorder is steadily growing and currently makes up 1% of the planet population, ie more than the population of Ukraine. According to the data of the American Center for Disease Control and Prevention, 1 of 88 American children suffers from autism.Meanwhile, today the number of people with autism in Ukraine remains unknown due to lack of statistic data, problems with diagnostics and all the other problems that can be expected and commonly found in a country that only recently realised and acknowledged the problem. It is well-known that there was no autism in USSR: upon reaching majority, they automatically received "schizophrenia" as diagnosis. There is barely any satistics data in Ukraine-2014 regarding this matter, while the figures available are not only false, but contradict each other. Thus, according to the data of Ministry of Health, 3200 people with autism officially live in Ukraine. In fact, practically all representatives of social organisations agree that the actual figures are much higher.
Aforementioned facts are only the tip of the iceberg. According to the respondents of the survey, the actual problems begin in real life, when parents of children with special needs have to live and fight for the health and rights of their children. And this is probably the main reason for the importance of this survey, which 24 social organisations and over 120 parents of children with autism all over the country were involved in (organisations and parents of the Crimea, Donetsk and Lugansk regions didn't participate in the survey). We don't claim for the ultimate truth, but since this is the first survey of its kind in Ukraine, in our opinion it is extremely important to bring its results to attention of the society and experts.
Thus, the problem No. 1 in minds of Ukrainian parents is an acute deficiency of specialists with appropriate background and skills, as stated by 61% of the respondents. The cause is the same – no true statistic data about the number of people with autism in Ukraine – hence downplaying the significance of the matter in general. This, in its turn, explains why the need to learn the correction of children with the "non-existent" diagnosis did not arise in Ukraine before or now. Since there is no need – no motivation. That is why a great number of correctional education teachers have little to no knowledge of autism. Students are only topically introduced to this term, while courses of professional correction of such children are not given in Ukrainian HEIs at all. According to the survey results, above all Ukraine is missing competent speech and language therapists, as well as speech pathologists that know how to work with a special child.
The second problem is connected with the previous one. It is the difficulty to get diagnosed in Ukraine. It is caused by the same lack of specialists' knowledge. Like teachers, doctors are barely taught how to work with children with autism and are not told even the classic signs of the disorder. Keeping with the best traditions of the soviet medicine, some medical workers still equate autism to schizophrenia, although, for the sake of truth, we shall admit that such cases are not typical anymore. More often parents hear alternative reply – "your child will grow out of it". Many of them take such "calming therapy" untill the child needs to go to school and the problem hasn't disappeared. And then the parents start to raise alarm, but precious time is lost: correction procedures for children with autism are most effective rather in early age – up to 7 years. According to 61.7% of respondents, second largest problem is timely diagnostics.
"It took us two years to prove the child's problems to doctors. Pediatrician still closes his eyes, afraid to talk to us, "- said the parents of one special child.
Half of the respondents pointed out the difficulty to get into a school (51%) and inability to begin the correction on time (48.9%). Almost the same number of respondents (46.8%) focused on the inability to get preschool education. These three points can be summarized to 'lack of appropriate conditions for education of children with autism'. Currently very few people can get it in Ukraine. Inclusive education system exists only on paper. Regular schools do not want and are unable to take children with autism, as they have practically zero knowledge on how to work with them. There is no motivation system for teachers either. Sure, there are some positive examples, but they are exceptions to the rule that further prove: these problems cannot be resolved within the system.
"In a school that my son goes to, for the first time in 5.5 years the psychologist organised a training course alongside parents that have children with autism. None of the teachers of the special school has completed further qualification training on procedure for teaching children with autism", stated one of the respondents.
Thus, this survey has reasonably evidenced that Ukraine has a disastrous lack of specialists, problems with early diagnostics and lack of officials' interest in solving problems of autism. While Europe and United States are already working on improving life of adults with autism, in our country we still speak about normal conditions for children at school and pre-school institutions. This is not a dig at Ukrainian authorities, but unemotional statement of the facts. It should be noted that recently legislative and executive authorities of Ukraine have significantly advanced in this direction. Significantly, but not enough. This too should be recognized as a fact.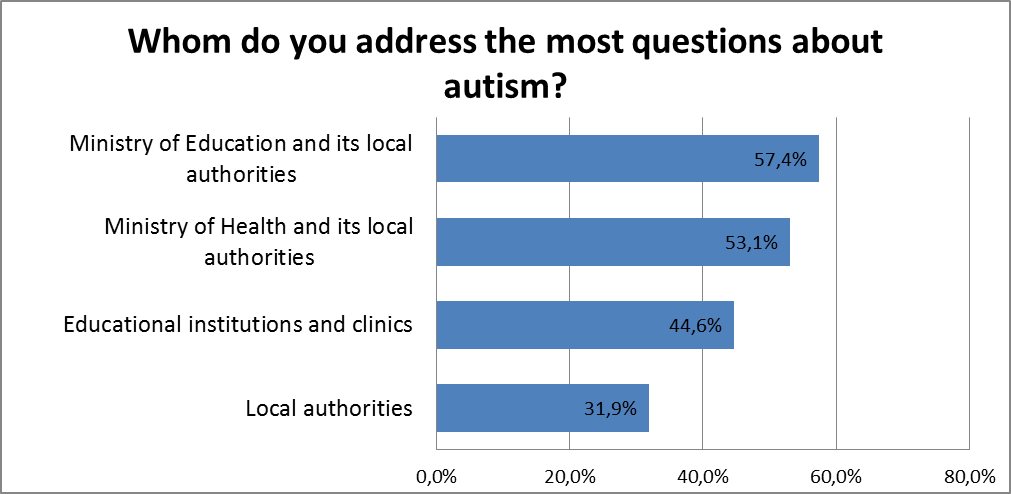 Notably (attention!) most questions of the respondents were addressed to the Ministry of Education (57.4%) and the Ministry of Health (53.1%). The third place is taken by the educational institutions and clinics (44.6%), and the fourth – by the local authorities (31.9%). This is a logical and natural gradation: people realize that without decisions made at the administrative level, the situation at local and community levels cannot be changed.
And finally, the picture of the government participation in the problem of autism wouldn't be complete without estimation of the financial aspect. Because the majority of respondents in "Miscellaneous" section specified the financial issue to be fundamental, and because solutions to all the above problems have the same value and cost as any changes in our life. The absence of statistic data in Ukraine 2015 definitely disables even theoretical estimate of the resources required for "effective problem solving", although for some it could've been the simplest solution. But it is not possible to use fixed figures in a problem that will get stretched over decades – it is populism. And demanding Ukrainian government to allocate money in these times is nearly extortion. In our opinion, today the government could allocate some direct funds to solve the current issues, but strategically it is important to have its readiness and desire to be together as reliable partners. Recognise the importance, provide the conditions for people with autism, facilitate and motivate domestic and foreign patrons, and even a little bit of your own participation, provide existing resources on the main "lines" with the aim to turn towards the Ukrainian autism society – and that is not a small job. But it is so much…
Starting from the well-known phrase "Democracy – is the attitude of majority to minority", we also decided to measure the attitude of the Ukrainian society to the problem of autism and, contrary to the traditional inertia of public opinion, we received quite encouraging results.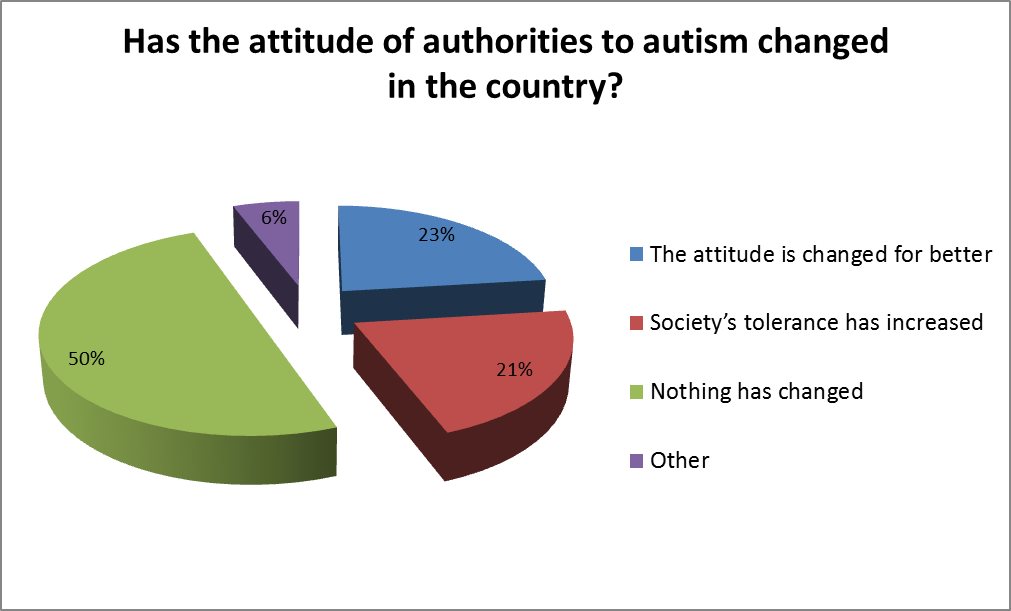 Thus every fifth respondent stated that in 2014 Ukrainian society became more tolerant to autism problems (!). Almost every fourth respondent thinks that for the same period of time they felt change in attitude to their problems from the representatives of Ukrainian authorities.
In view of the extremely difficult situation in Ukraine today due to the aggression in the South-East of Ukraine, the above data present one more confirmation of tolerance, awareness and readiness of Ukrainian civil society to be an integral part of the civilized world. In this context, 50% of respondents, who "felt no change", only confirm the need for further work. For whom?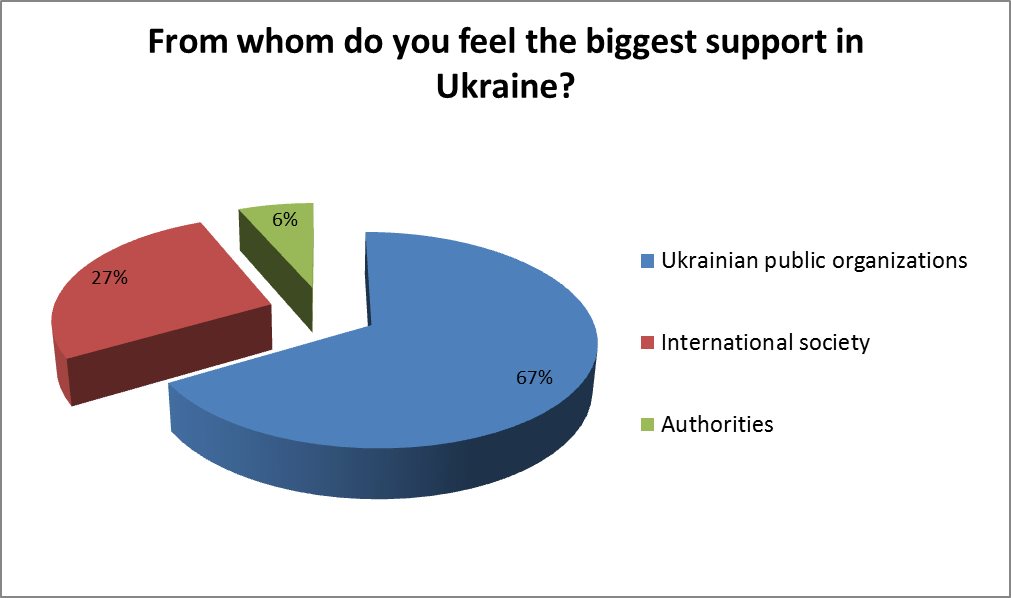 First of all for us and the whole Ukrainian and world society. That is why 67% of respondents stated currently they feel the major support from Ukrainian and 27% – from international non-governmental organizations.
Within several years (2010-2014) Ukrainian parents and public activists have achieved significant progress in this sphere. Among them: recognition of "adult" autism by the Ministry of Health, allocation of funds by the government for the needs of people with autism, training aids, working group on the autism problems solving within the government, first parliament proceedings on the problem of autism in Ukraine, international conversation and experience sharing. For the first time Ukraine received the international prize INAP 2014 (Naturally Autistic People Awards) in Edinburgh.
And this is only the part of the opportunities that are opening for special children in our country. Due to active position of parents, public organisations, mass media – the whole Ukrainian society – we succeeded to draw attention to autism, people became more open and tolerant. People started to realize the problems of families having children with autism are not only their internal problems. Those are problems of the society as a whole.
Despite the difficult situation in Ukraine, public organizations do not stop fighting for people with autism. An informational program is being setup currently. It aims to cover a maximum number of clinics to place the information boards about autism. The number of educational training courses on teh disorder and further qualification is increasing. Among them is a unique TEACCH course organised by Foundation "Child with future" in conjunction with the Advisory Center for people with autism "Kolping's business" and Ivan Franko Lviv National University.
Parents and activists hope for a reformation of the education and health systems, and are ready to cooperate with civil society, mass media and public organizations in order to bring the problem of autism in Ukraine to a new level.
We would like to express our gratitude to our Western international partners – "Autism Europe" (Europe), "Autism Speaks" (USA), "ANCA Canada" (Canada), express our support and willingness to cooperate with our closest neighbours – "Synapsis Foundation Poland" (Poland), "APLA Chech Republic" (Czech Republic), Children with autism support foundation "Ашық Әлем" (Kazakhstan), Otisium Otizm Spor (Turkey).
With God on our side!