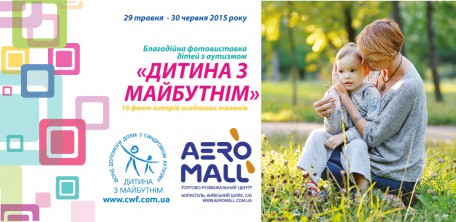 May, 29 in "Aeromoll" shopping center was opened a charitable exhibition "Child With Future" devoted to the Children's Day. The event has been initiated by a mother of a boy with autism, a professional children photographer Olenka Fedotova.
The exhibition consists of 16 stories of children with autism on huge puzzle. Now each visitor of "Aeromoll" can learn what is autism and how is possible to help these kids.
"With pride and enthusiasm we have supported the project. I`m sure, the more people will learn about autism and respond a call, the more chances will get each child. It is important comprehensive assistance to each person and active participation in creating the conditions for a dignified life and full development of children", – underlines marketer of "Aeromoll" Irina Solodka.
It will be possible to get acquainted with stories of children with autism in shopping center "Aeromoll" during the whole month of June.
"These days in Ukraine is experiencing hard times, but we have decided to support Olenka`s idea, have found partners and have created this positive project. We are sure, that in spite of everything, it is necessary to develop, to rejoice bright moments of our life and help children", – shares Latysa Rybchenko, a director of the Foundation "Child With Future", which has organized the exhibition.
"We hope that each family that participates in our project; will receive aid from not indifferent people. The aid, which will allow families to save precious time and rehabilitate a child. After all effective rehabilitation of a special child is possible only up to 7 years old. This means everyday trainings with minimally 5 pedagogues".